Kota Kinabalu's nightlife is rapidly increasing in both number of options and level of quality. Thus, a night out in Sabah is getting better with every new establishment that brings something fresh to the scene.
Nightlife in Kota Kinabalu include the quiet and sedate for those craving a chat and a drink, or live bands and rocking Djs if you're a shut-up-and-dance kind of partier. How about a classy establishment if you like to be seen or minimal décor if you're looking for a cheaper drink?
To help you navigate KK's maze of nightlife, watering holes, pubs and clubs, allaboutsabah.com presents you this Nightlife Guide below featuring what's important on your night out: where, when and how much.
B.E.D. – Best Entertainment Destination
B.E.D stands for Best Entertainment Destination, is one of Kota Kinabalu's biggest club / pub / live entertainment venues, located in the Waterfront complex and also popular because of the live music, music played by the DJ and the ample space.
B.E.D is best known for the scantly clad, gyrating Filipino bands. B.E.D. also has a VIP only area are suitable for private parties and can be closed off for larger private gatherings. Visit the Best Entertainment Destination, the only best nightclub hotspot for party-goers which only can be found in Kota Kinabalu.
Address : Jalan Tun Fuad Stephens, Kota Kinabalu, Sabah
Monday – Tuesday : 12:00 pm – 1:00 pm, 8:00 pm – 2:00 am
Wednesday : 3:00 pm – 3:00 am
Thursday – Sunday : 8:00 pm – 3:00 am
Q Bar Kota Kinabalu
Q Bar in Kota Kinabalu is one of KK's long-standing party venues and also happens to be one of its most prominent straight-friendly gay bars.
Popular amongst the gay and lesbian community, Q Bar is really for anyone who likes to party in an atmosphere where you don't have to make excuses for who you are.
Address : No 15 Gaya Street, Kota Kinabalu, Sabah
Business Hour :
Monday : 21:00 – 01:00
Tuesday – Thursday : 21:00 – 01:30
Friday : 21:00 – 03:00
Saturday : 21:00 – 03:30
Sunday : 21:00 – 01:00
Shenanigan's Fun Pub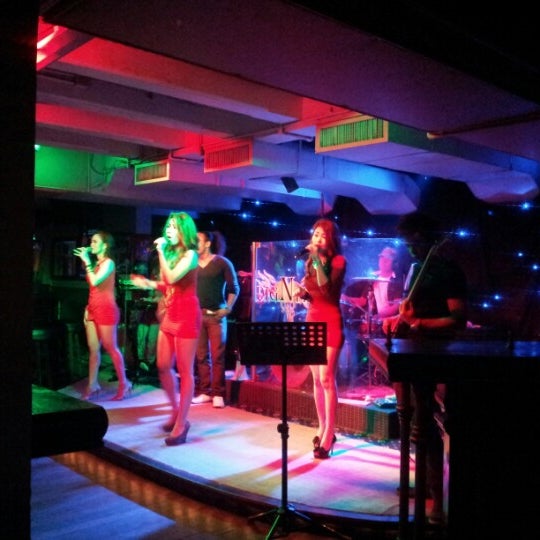 Shenanigan's Fun Pub is Kota Kinabalu's oldest nightspot and watering hole. If there's a conversation about nightlife in KK, Shenanigan's is probably in there somewhere.
What is the secret of Shenanigan's success? Is it the constant marketing, the loyal and long established customer base, the hot Filipino band that's always on the bill, exciting event after exciting event?
Maybe. Or perhaps it's its loyal fans who have been going there for decades.
Address : Hyatt Regency Kinabalu, Jalan Segama 2, Kota Kinabalu, Sabah
Contact Num : 088 221 234
Business Hour :
Monday – Sunday : 17:00 – 01:00
Shangri-La's Sunset Bar
Shangri-La Tanjung Aru Resort's Sunset Bar is perched on the tip of a tiny peninsula, surrounded by ocean, palms trees, close-ups of the islands, and presents perfect views of Borneo's incredible sunsets, cocktails on hand.
Address : Shangri-La's Tanjung Aru Resort, Kota Kinabalu, Sabah
Contact Num : 088 327 888
Business Hour :
Monday – Sunday : 10:00am – 11:00pm
Shamrock Irish Bar
Shamrock Irish Bar is located at the Waterfront Kota Kinabalu, right in the middle of the city's nightlife strip.
Whether you drop in for lunch during the day or dinner during the evening, an ample supply of draught lager and stout are on tap, or choose from a fine Irish Whiskey or a bottled beer if you're so inclined.
Address : KK Waterfront, Kota Kinabalu, Sabah
Contact Num : 088 249 829
Business Hour :
Monday – Thursday : 12:00 – 01:00
Friday – Saturday : 12:00 – 02:00
Sun: 12:00 – 01:00
LA VINTAGE BAR & GRILL AT TOWERING
La Vintage isn't one of those restaurants where you need to look up things on the menu to figure out what they are but they do go beyond what is so commonly expected from a vintage themed restaurant – a reprint of retro-chic fashion that will soon fall out of favor. The conceptualization of Sabah's integral past history is materialized within its beautifully designed dining areas; Neo Classical Atrium, English Rose Garden, Queen Elizabeth Suite, Native Butiza and Oriental Tea Corner, as well as its outdoor patio-themed bar, the Tropical Beer Garden – all of which can be reserved for special occasions.
Address : KM7, Nosoob Baru, Jln Penampang, Kota Kinabalu, 88300 Sabah, Malaysia
Contact Num : 088-703 863
Business Hours :
Mon – Sun: 11:00 am – 1:00 am
Cock & Bull Bistro
One of the most popular late night drinking establishments in KK, also serves good food and has live bands most nights, great location too.
Address : Jalan Tun Fuad Stephen, Kota Kinabalu
Phone : +60 88 257 881
Bar35
Come and witness the awesomeness of these Djs
Address : F-35, Block F, KK Times Square, Off Coastal Highway 88000 Kota Kinabalu
Contact Num : 088-448 814
WhiteRoom Bar Club Lounge
WhiteRoom is a bar, dance club and lounge in KK Time Square, which lies adjacent to the central business district of Kota Kinabalu.
It is 1 of 3 nightlife establishments in KK Time Square that draws in the dance crowd and WhiteRoom in particular brings something pure and, dare I say, white – to the KK dance scene
Address : Ground Floor, KK Times Square, Kota Kinabalu, Sabah
Contact Num : 019 222 0677
Business Hour :
Monday – Sunday : 18:00 – 02:00
KGK Chic Bistro & Fun Pub
Address : KGK ANNEX CLUB , PENAMPANG POINT , JALAN PENAMPANG , Kota Kinabalu , Sabah, 88300
Contact Num : 088-728157
Business Hour :
Monday – Sunday, 3:00 p.m. – 1:00 a.m.